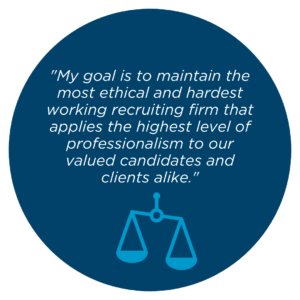 Harold Diamond, Partner
Harold Diamond has been a leader in the legal community in Florida for over 20 years. Harold founded Legal Staffing Services in 1997 when most law firms were not familiar with the idea of a recruiting firm that focused exclusively on the legal industry. Harold and the Legal Search team began by educating the legal community as to the benefits of a full service, exclusively focused recruiting company. Through the years, Harold has successfully developed the largest and most experienced legal recruiting firm in the state, placing legal professionals at all levels and building lasting relationships with both clients and candidates.
Harold received his B.S. from Babson College where he majored in Entrepreneurial Studies and Finance. Prior to entering the legal search profession, Harold was based in Boston, where he worked in the real estate development and the money management/hedge fund industries. Harold lives in Boca Raton where he enjoys spending time with his wife, son Mitch and daughter Brooke. Besides family, Harold enjoys golf, collecting wine and traveling back home to Boston and Cape Cod.
"Our firm's practice is very specialized and my clients demand the very best from me and my staff. I have known Harold Diamond since 1997. Although I have very little turnover in my office, whenever the need arises, I do not hesitate to call Legal Search Solutions. They have done an excellent job of placing high caliber candidates in a timely fashion that have stayed with our firm. Legal Search Solutions would be my first and only call should I require additional staff and I would certainly recommend them to any colleagues looking to hire."